Hand Painted, Hand Crafted, One-of-a-Kind Jewelry Line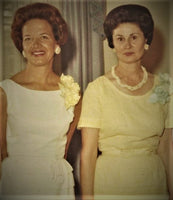 Who is Mary Maveline?
Mary Eloise Kelsoe and Maveline Gammill were two beautiful, industrious, and special grandmothers. Using both their names and adventurous spirits, two of their granddaughters - Amy and Anna - have created a unique and beautiful jewelry line. With the combining of Amy's award-winning watercolor talent and Anna's creative metalsmithing, the sisters have created a jewelry line almost as unique and beautiful as its namesakes.